It has been three years since my wife found a lump (bump, knot, whatever). It felt like a small marble. Since we don't eat marbles, she went to her OB-GYN.
One of the changes in the past twenty years is that women are switching from male OB-GYNs to female OB-GYNs. My wife was no exception. It wasn't like she was creeped out by the male doctors, it is just her female OB-GYN doesn't act like she invented science. Sometimes her male doctors gave the impression that they were the ALL POWERFUL OZ while her female doctor gives the impression that she just did really good on the SATs and here she is now, YAY!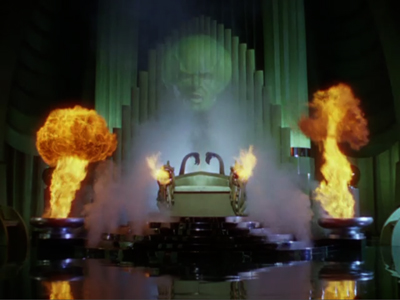 A former leading OB-GYN in Georgia
(By the way, around this same time I went to have my yearly physical. In comes my doctor with a
female
medical student that was shadowing him for the day. My doctor went into great detail over the proper technique in what the medical profession calls "The
Moon River
Procedure".
He said, "This provides the maximum comfort for the patient ". From my point of view, "maximum comfort" was a relative term.
As an added bonus, she watched with intensity my hernia check. As he was instructing her on the best way to "perform" this procedure ["You grab this and say 'cough' in a nonchalant manner"], she stared at my man parts. I know she was a doctor and I was just another human body, but I must admit I felt kind of weird, especially when she gave me her phone number. Not really. I just told my wife that to be funny)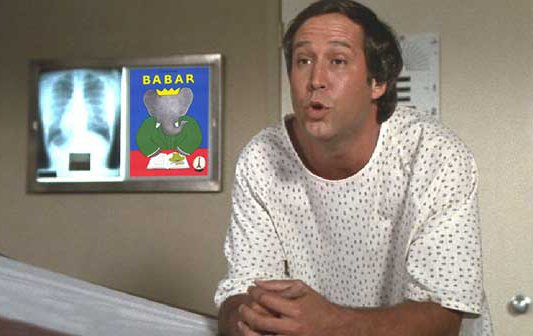 Photographic evidence of when Chevy Chase was funny
My wife's doctor came in, all smiles and hugs, as usual, until she felt the lump. Her countenance changed and she became very serious. Lori was sent for a diagnostic mammogram and it went all down hill from there.
Soon we were hearing those dreaded words, "You have an Invasive Ductal Carcinoma". You always hear about
others
having breast cancer. I was in medical insurance for years and paid a ton of breast cancer claims. Yet, I guess I was too stunned to realize what happens when breast cancer enters your life.
First, the cancer has to be removed. If the tumor is small, like my wife's, this can be done with a lumpectomy. Of course, I
had
to be the shallow one and ask the question: What will it look like? The doctor said, "Well, it is going to be smaller."
Without going into great detail, a lumpectomy looks like a shark bit your wife on the breast. There is a scar. The scar is deep. The Bad News: Your wife won't be in
Playboy
anytime soon. The Good News: insurance pays for the plastic surgery to repair the breast back to its normal function
So a year after she finished her radiation treatment, we found ourselves in a plastic surgeon's office going over possible strategies to repair her breast.
The surgeon walks in and he is everything that an average husband (particularly this one) is not: young, good looking, and smart. He begins his examination and it was odd watching another man gaze at your wife's bare bosoms even if he is doing it clinically. (By the way, wouldn't "
Bare Bosoms
" be a great name for a band?)
Then he got out a tape measure and measured from point A to point B, if you catch my drift.
Soon, he gave us his recommendations. She could have a fat grafting procedure. This would take fat from another part of her body and put it into the scar of her breast, much like you would put dirt into a hole. This procedure would have to be done three to four times to be successful.
Or
she could have implants. The cancer damaged one breast and made it a half a cup size smaller. They do not make "half a cup" implants. So, she would have to have implants on both sides for symmetry purposes, which would make her, um, quite a bit larger.
He left us alone, with a couple of implants in our hands like we were going to give them a test drive, to discuss the procedures. On one hand, the fat grafting procedure was recommended by her breast surgeon and is a little more natural. On the other hand, I could have a wife with big ones. Oh yeah, she wouldn't have to go through multiple surgeries either.
Believe it or not, I didn't plead for the implants. I'm not a big fan of the implant look. My wife is a little person and I'm not sure she could have carried the load without falling over. Plus, it was really her decision since it was her body. I definitely should be nominated for
Husband of The Year.
Next Time
:
Tamoxifen-Mommy's Little Heater