One of the series I used to do with this blog was called
Who Will Not Be President
. In it, I examined people who were "planning" or thinking about running for President and explain why they were wasting everyone's time.
Not meaning to brag, but I had a pretty good track record. For example, I said we wouldn't have a President Haley Barbour or a President Newt Gingrich and I was right.
However, I hit a big wall with one person. I wrote not once, but twice, that Donald Trump would never become President. Oops. I'm not exactly the only one who said that, so give me a break.
Because of that, I've decided never to say never when it comes to who will be elected President.
Instead, I will offer my occasional insights into what I think are the strengths and weaknesses of those want to become President.
Before I start, and I shouldn't have to say this, but I will. I am trying to be as "objective" as possible and still write something I think will make you laugh. I have not abandoned any great principles I have and I've certainly haven't gone over to any dark side even though they may have donuts.
I put in that disclaimer because the first subject is Oprah Winfrey.
In case you missed it, Oprah was given an award at
The Golden Globes
, for some unknown reason. I'm not quite sure what
The Golden Globes
are, except up until last year it was a time you could turn on your TV and see your favorite Hollywood star three sheets in the wind.
Then last year happened and Meryl Streep felt this great need to address her unwashed subjects on the election of Donald Trump. It was a snide, most elite, condescending address to a group of people that used to be called "the public" or "the people who buy overpriced movie tickets to watch your goofy movies". Of course, Hollywood loved it.
This year, because of Harvey Weinstein and the #metoo movement, Hollywood felt like they had to put these awful horn-dogs in their place. So, the ladies wore black in solidarity and they invited the biggest gun to speak-bigger than Meryl Streep. So big, this person is known only by one name: Oprah.
She gave, by all accounts, a stem-winder of a speech. In it, she said, "
For too long, women have not been heard or believed if they dare speak the truth to the power of those men. But their time is up. Their time is up."
A cynical person, for example like me, would have responded. That's true. For too long, people didn't believe Paula Jones because if you drag a $100 bill through a trailer park, there's no telling what you'd find. And we didn't believe Linda Tripp because she was tubby and wore glasses.
But no matter. Hollywood lapped up Oprah's speech and they are really excited about her running for President. While she hasn't really said if she would or would not, here's what I think is her strengths and weaknesses.
Strengths
First of all, Oprah Winfrey is a masterful communicator. This separates her from the current occupant of The White House and frankly everybody else in politics. She knows what she wants to say and how she wants to say it. As they say in sports in regards to speed, you can't coach that. You either have it or you don't and she has it.
Secondly, as part of her talk show career, she knows how to listen. Again, this separates her from everybody in politics. Additionally, she knows how to appear sympathetic. That goes a long way in politics, especially the Presidency.
Third and this is big, Americans know her and like her. She was a guest in their living rooms for over 25 years. My mother, who was a person of her times, loved Oprah Winfrey. Winfrey connects with people. Elizabeth Warren doesn't. Boom.
Fourth, Winfrey is the creator and CEO of a cable network. She is a very rich person who started from nothing. Nobody gave her a million dollars to start a company.
Finally, Winfrey is younger than Biden, Warren, Sanders, and Hickenlooper. Okay, I'm not sure why being younger than Gov. Hickenlooper is a strength, but I just like writing the name.
Weaknesses
This first weakness isn't really personal to Winfrey herself. It just seems a little too cute for the Democrats to bring Winfrey up.
Okay, Middle America, you want a TV star president? Here you go!
Her second weakness is we don't know too much of what she believes in, politically. We assume she is your Barack Obama generic garden-variety left-wing Democrat, but we really don't know. She might be to the right of Obama on some issues. She may be to the left of Bernie Sanders.We don't know.
Her third weakness is Presidents have to make unpopular decisions. It is easy to be popular when you give everybody a car. It is more difficult to say, "I'm sending your son to war...and your son to war...and your son to war." She's always been one of the most popular people on the planet. I wonder what she would think of being compared to Hitler.
Then, there is this.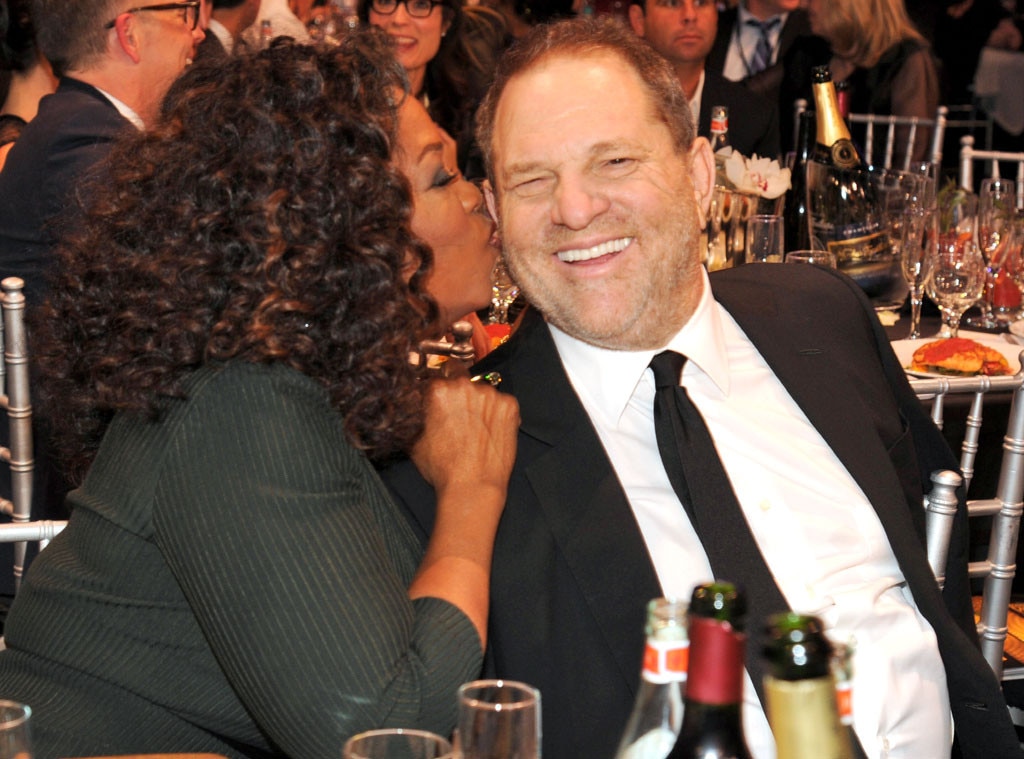 Harvey Weinstein and "his ways" could have been called an "open secret" in the entertainment industry except it wasn't so secret. It doesn't look like Winfrey "spoke the truth to power" when she had the opportunity.
She has a couple of other areas in which could be a problem, but since Trump (a thrice-married man who built casinos and has a model wife who has done nude sessions but still managed to be the candidate of a lot of Evangelicals), I have no idea.
One, she is not married but has a significant other. I would think that would matter but it might not.
Two, she is being attacked, already, for "spreading the anti-vaccine pseudoscience" (she had Jenny McCarthy on and basically didn't challenge McCarthy's statements that childhood vaccines cause autism). Winfrey says she was just presenting information and letting the viewers make up their own minds. If this is correct, we need to all apologize to Michelle Bauchman.
It may be way too early to think Oprah Winfrey is going to run for President. All I know, she has a really weak field in the Democratic party and Trump shouldn't take her too lightly.